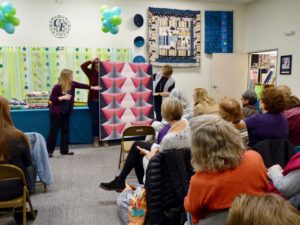 This month we were honored to host author Amy Friend, who taught a full-day workshop on Improvisational Paper Piecing and also shared her quilts at our February meeting. Thank you for all the inspiration, Amy!
We met on February 9th at Colorado Fabrics with approximately 30 attending.
February Meeting Highlights:
Amy Friend's inspiring Trunk Show
New Officers announced! See Business Meeting minutes for details.
Quilts returned from "How New is Modern?" show
March Meeting
Participants in Design Challenge Mini-Swap will reveal their quilts
Rebecca from Boulder MQG will discuss Block of the Month challenge
New Location! Community room at Echo Park Automotive in Thornton.
Full Meeting Minutes
DMMQG-February-2018-Biz-Mtg-Notes
DMMQG-February-2018-Board-Mtg-Notes